Our IT company stands at the forefront of technological innovation, offering a cutting-edge suite of services that are reshaping the landscape of businesses worldwide. With expertise in Internet of Things (IoT), Machine Learning (ML), Artificial Intelligence (AI), and automation, we empower organizations to unlock their full potential. Our IoT solutions seamlessly connect and optimize devices, harnessing data-driven insights to enhance operational efficiency and decision-making. Leveraging ML and AI, we provide predictive analytics, personalized recommendations, and intelligent automation, allowing businesses to stay ahead in the digital age. Our commitment to excellence and innovation positions us as the trusted partner for businesses seeking to thrive in the ever-evolving world of technology and advertising.

Our solutions range as follows:
Farming:
We are passionate about providing top-notch products and services to our clients, with a strong focus on quality and excellence. Our roots extend from various regions, bringing together a diverse blend of expertise. Our commitment to quality echoes in our offerings, ranging from innovative agricultural solutions like agroNET and poultryNET. Our solutions serve as a central hub, offering a suite of modules designed to streamline and optimize various farm operations. We take pride in ensuring transparency in the sourcing of ingredients, sustainable production methods, and the overall journey from farm to table. Your satisfaction is our priority, and we continue to evolve our offerings to meet the highest standards in the industry.
agroNET
Integrated digital farming, from vineyards and orchards to arable crops
agroNET revolutionizes farm management by offering a cloud-based platform that seamlessly integrates all farm operations. Say goodbye to data fragmentation from various equipment vendors. With a unified view of farm assets and activities, agroNET provides expert data analytics, ensuring timely guidance, support, and advanced automation. Tailored configurations cater to the unique needs of vineyards, orchards, vegetable production, and arable crop production. Experience the future of efficient and intelligent farming with agroNET.
poultryNET
Integrated poultry farming – from feed to wellbeing
Elevate poultry farming with AI-driven decision support. Our platform focuses on animal welfare, using real-time data to empower farmers in efficient, high-quality meat production. Manage broilers' production effortlessly, with user-friendly instructions, reducing environmental impact and prioritizing animal welfare. Optimize your poultry farm with cutting-edge technology.
Manufacturing:
Embarking on the cutting edge of Industry 4.0, DunavNET is actively shaping the digital transformation landscape. Introducing factoryNET, our innovative solution propels manufacturing into the digital era, enabling real-time data exchange, advanced analytics, and groundbreaking preventive maintenance techniques. Elevate productivity, minimize defects, and enhance worker safety — a leap forward in manufacturing efficiency.
factoryNET
Transforming manufactory operations
Discover the power of factoryNET – your gateway to real-time production monitoring and optimized asset utilization. Seamlessly blending key parameters, this solution offers insights into your entire production process, predictive maintenance through machine operation monitoring, and robust reporting capabilities. With its modular architecture and flexible integration of sensors and ML algorithms, factoryNET is poised to elevate your manufacturing processes, embracing Industry 4.0 technologies such as in-situ sensing, computer vision, IoT, machine learning, and cloud technologies. Unleash the potential of Industry 4.0 with factoryNET!
Transportation:
Digital transformation in the transport domain contributes to more efficient fleet management and safer transportation of goods and passengers. Our solutions for the transport domain will help you to utilize your vehicles more efficiently, reduce operational costs, reduce carbon emissions, ensure compliance with various environmental conditions during transport of goods, improve driver safety, and even help you find parking spots quickly!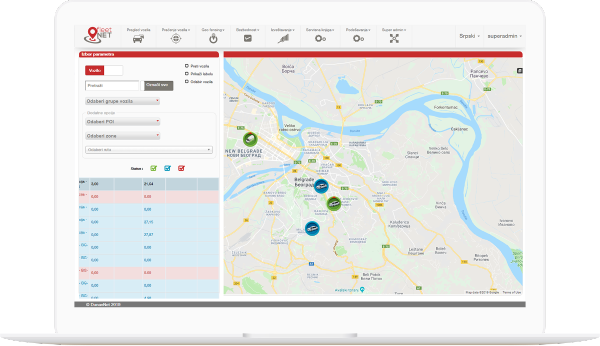 fleetNET
Optimizing fleet utilization
Elevate your fleet management with real-time vehicle monitoring, optimized workforce allocation, and enhanced compliance. Maximize efficiency, prevent misuse of assets, and make informed decisions with our integrated solution. Transform your business operations today.
Register
register for a demo
Partners